Not that I have a lot of sympathy for anyone born into royalty, but Chuck and Diane's second son Harry seems to be needing some attention lately. What with the costume malfunction, excessive carousing, and all-around general Royal-like behaviour.
Sympathy? Well, imagine if you were born into a family where tradition and protocol gird your every move. Where expectations are high and your behaviour is looked upon with chauvinistic criticisms at every turn. And from your deep genetic pool, you've been bestowed with looks that are deemed as "full of character". Of course, I'm not talking about a spoiled blue-blood, but of
Jaguar's S-Type
.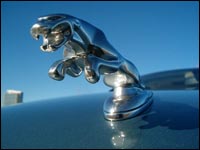 2005 Jaguar S-Type 4.2 (photo: John Leblanc)
Along with its Ford sugar daddies, Jaguar was resolutely criticized by the automotive press for moving downmarket and for not being a true "Jag-you-rrr" when the S-Type was unveiled in 1999.
It was the company's first all-new mid-size, luxury sports sedan in thirty years. A lot of the whinging came from the fact the new S-Type shares a platform with Lincoln's LS. The S-Type's styling, harking back to the Jaguar Mark II from the Swinging Sixties, was either seen as retro gone bad, or as an alternative to the cold, Germanic standards. The interiors of the cars, for the first few years, also did not live up to the traditional "Jag-you-rrr" expectations. Too much Detroit, not enough Coventry. Whatever. With total sales now over the 200,000 mark worldwide, Jaguar has managed to find enough image-conscious buyers whose idea of a mid-sized luxury sports sedan is a little off the beaten Autobahn.
Credit to Jaguar for sticking with its wild child. 2003 saw the S-Type receive a round of upgrades that included a new six-speed automatic transmission, stability control, and upgraded (that means "more powerful") engines, including the all-new supercharged 390 horsepower, 4.2-litre vee-eight S-Type R model. In 2004 Jaguar vehicles as a whole advanced seven positions in the J.D. Power and Associates Sales Satisfaction Index, to tie Lexus for the Number One position in the entire industry. The brand also became the highest-ranking European nameplate on the J. D. Power Initial Quality Survey for vehicle quality and dependability. For 2005 Jaguar has sent the mid-sized Coventry cat back to school yet again.
Returning this year is the three-model S-Type lineup. The 235 horsepower 3.0 vee-six ($62,795), the Q-ship R model ($84,995), and our test car, the "just right" 4.2 ($72,995), which comes with the naturally aspirated version of the R's mill.
2005 Jaguar S-Type 4.2 (photo: John Leblanc)
Also for 2005, head Jaguar penman, Ian McCallum, has given the S-Type some visual length by removing one of the several swathes that run down the length of the car. The front and rear fascias have also been tidied up, and the taillights have been adjusted for a tighter look. Jaguar claims the emperor's new clothes are a result of a reengineered body that makes for tighter panel fits throughout the car. To aid in the driving portion, weight distribution has been improved with the use of an aluminum hood. Despite its age, the S-Type still gets looks. Especially our test car's ice blue exterior matched to its tan insides, which seemed to reflect the non-aggressive nature of the S-Type.
Despite cheap Jaguar styling knockoffs from various brands as diverse as Buick to Kia, the S-Type still stands out as something special. Something a Jaguar should do.
Compared to other vee-eight luxury sports sedans, like
Audi's A6
4.2 quattro ($72,500), BMW's 545i ($77,700), Mercedes-Benz's E500 ($84,600), or Cadillac's STS V-8 ($68,725), the 2005 Jaguar S-Type 4.2's interior is the nicest place to chill. Road thump is kept at bay, and the cabin is gentleman's club quiet. If your body fits, there's a general coziness that simply doesn't exist in any of the S-Type's competitors.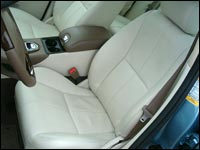 2005 Jaguar S-Type 4.2 (photo: John Leblanc)
The snug fitting leather-lined seats for the driver and passenger upfront provide comfort and support on the highway, although cloverleaf antics will have your backsides sliding. The steering wheel is one of those leather/polished wood combos that I generally don't agree with, but Jaguar seems to have made this one enjoyable to hold. Driver instrumentation faces are backed in British-racing green and are clear to read. There's even a generously sized tachometer that an E Class would be envious of. The size, shape, and feel of the J-gate shifter knob finished, again, in polished wood, all felt of real quality. The only complaint I had being the PRND lettering hidden by the angle of the shaft--obviously a car designed in a right-hand drive country.
If you're not a fan of the singular input devices found in BMWs and Audis, you'll appreciate the S-Type's main controls that are traditional in function. However, the materials, control lettering, and button feel contrast with the rest of the cabin's quality ambience. Audi owners will not be jealous if they start measuring the Jaguar's interior's seam lines with their micrometers, but it's a big improvement over the first S-Type from 1999.
Although Jaguar offers interior aluminum trim with its optional sports packages, wood still plays a big role. Our 4.2 model was no exception with appearances of wood across the dash, transmission console and doors. Besides Bentley, or Rolls Royce, if any manufacturer receives a Get Out of Jail Free card for using wood in this manner, its Jaguar.
So far, the S-Type 4.2 is living up to traditionally held Jaguar value propositions of eye-catching good looks and House & Home-like interiors. But where's the "pace" part of that ol' Jaguar saying?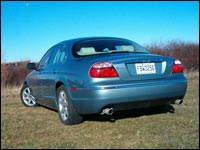 2005 Jaguar S-Type 4.2 (photo: John Leblanc)
Our 4.2 model, which did not come equipped with the sports package's buttoned-down suspension, is not a sports sedan. Get over it. With the BMW 545i at one end of the Luxury Sports Sedan Scale, and the Mercedes-Benz E500 at the other, the S-Type falls squarely in the middle. And, despite having such an impeccable ride, the mid-range S-Type does not start quivering at the first sign of a bend in the road. There's grip when cornering hard from the standard 235-50/17 rubber, and the rear-drive chassis is balanced enough for the experienced driver to play with. But the steering is too light to garner your confidence to explore further. The kind of path of accuracy that a 545i gives all day long does not exist in the S-Type's repertoire.
Still and all, if you can afford the vee-eight, you'll be rewarded. This engine is one of the smoothest in its class. Even if lacking the R model's supercharger, this naturally aspirated 4.2-litre mill's 294 horsepower and 303 pound-feet of torque moves the S-Type to an electronically limited maximum speed of 249 km/h and an under 7 second run to100 km/h from zero. And all in a turbine-like nature that makes you think, "Ah, now there's the 'pace'!'.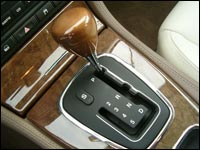 2005 Jaguar S-Type 4.2 (photo: John Leblanc)
The ZF six-speed transmission is also a primary co-conspirator to how smooth this car gets up and goes. It is a traditional automatic with adaptive software that responds to both road conditions and the way the car is being driven. Using the latest version of Jaguar's J Gate selector, upshifts are almost seamless, as if slippage was added in. The negative to this is downshifts require a heavy foot. Other car writers have complained about the antiquated nature of the manual J-gate, but it works fine when you need the correct gear right now.
Consequently, after half-a-decade of continuous development, the S-Type can confidently claim itself as a true "Jag-you-rrr". Its exterior styling still says you're driving a "Jag", which in these days of conformity can be appealing. The interior quarters are a cozy yet comfortable place for relaxed travel.  The engine is a model of refinement, and comes to attention when called upon. And the chassis is just right for our treacherous roads, yet hangs on when you want to play London gangster.
If he doesn't, Prince Harry should drive a 2005 Jaguar S-Type 4.2. The two would get along.